Friday December 4, 2020: Welcome to the first session journal entry for the second House Of All Seasons album! The sessions have been going very well and I've been having a lot of fun working on this album. All of the basic tracks have been recorded and I'm very happy with how the album is coming along. I spent most of my time this week adjusting instrumentation, double tracking rhythm guitar parts and recording main vocals. I had the most fun laying down the guitar solos and overdubs, I love doing that. I was using a Coppersound Polaris chorus pedal and an MXR Phase 90 (script version) a lot. The vocals sounded good, I'm confident that I got some takes to choose from later. Next week I'll be working on another song and have more...hopefully. better information for all of you! -Eric
7/5/2016: Sorry for the late update. I hope everyone had a great fourth of July! The news from the studio is that everything is on schedule and I'm very happy with the results. It's looking like the recording will be finished by mid to late August. This has been one of the most interesting, fun, emotional and sometimes frustrating experiences of my life and I'm a little sad to see it coming to an end. But the bright side is the first full length House Of All Seasons album is almost finished. 
5/20/2016: Well it's time for me to tell you all what has been going on in the studio and it's all good news. All of the basic tracks are finished and I am now in the process of recording vocals, backing vocals and guitar solos. Two songs are finished and ready for mixing. I haven't made a final decision but it's looking like it's going to be a 9 or 10 song album. It's varied stuff but all relatable to each other. The first section of the album is going to be rock and blues rock, the second is going to have singer songwriter ballads with a rock flavor and the last part is going to be more surreal and end with an instrumental called Transponder. So there it is, that has been what's going on, strong progress has been made and I'm very enthusiastic to finish the album. Hopefully the recording will be done by the end of July. I will be in touch with you all before then of course, with some sound clips and artwork concepts. Take care and I'll talk to you soon.
-Eric  
12/31/2015 Happy New Year ladies and gentlemen and welcome to the final session journal of 2015. Lately I've been recording; piano, bass and guitar and designing artwork with photoshop, next month I hope to post some clips and art ideas. Everything is on schedule and the target date for release is November 2016. Once again I hope you all had great holidays and I'm looking forward to sharing 2016 with all of you.  
10/30/2015: Well it's time for a long overdue update to the session journal. Notable progress has been made in the recording of the album and I am on schedule for next years release. Backing tracks are complete for four songs and the rest are waiting for their final arrangements and instrumentation, it looks like it's going to be a ten song album, maybe 9 depending on the length of the instrumental. Lately I've spending a lot of time shaping the guitar tones and I've been enjoying that tremendously, sometimes it can be a bit frustrating but 95% of the time it's fun and rewarding.
I recently read two very interesting books on composing music, one is Hitchcock's Music by Jack Sullivan and the other is Beethoven's Symphonies by Lewis Lockwood, both are fascinating reads and have influenced the kind of licks I'm playing on my guitar and bass. If you're very interested in writing music I highly suggest those, they explain the thought processes behind composition very well.
- Eric
7/24/2015  Acoustic guitar and vocal guide lines have been recorded for "Worried Sick". Over the next week I will be working on atmospherics and guitar tones. While on vacation I wrote three new songs, edited lyrics and finalized some arrangements. I'm very happy with the progress I'm making. 
7/11/2015  Well friends it is time for another House of all seasons session update. The scratch drums and acoustic guitar track  for a new song with the title of "Worried Sick" have been recorded. It is a moody and introspective ballad about experiencing a panic attack. I will be finalizing lyrics and instrumentation over the next couple of weeks. So far things are on schedule for the album's release date, I'm aiming for November of 2016. More info soon to come!
6/12/2015 This week has been a loud and productive one. The rhythm tracks for "Love is a veil" and  "Axe Fall Blues" and I'll soon be working on solo ideas. I'm very happy with the guitar sound, "Axe Fall" can take the tartar off your teeth :). For Axe Fall I am using my Fender Stratocaster, a Skreddy BC109 fuzz plugged into my Fender Deluxe Reverb. I have been writing  a couple of new songs, one is a piano ballad and the other is a rock song. Over the next couple of weeks I will be developing the drum and bass parts, editing lyrics and choosing the next song to record. Talk to you all soon. -Eric 
5/8/2015 For the past couple of weeks I have been shaping guitar tones for "Love is a veil" and a new blues rock song called "Axe Fall Blues" and it is one of my favorite things to do. Plugging my Stratocaster into a red hot fuzz pedal and cranking my amp is like burning the rust off my soul and I am so thankful to have that release.
  This is my 2006 Fender Classic Player Stratocaster and it is my favorite electric guitar. I used it on both Corners and Opening Scenes and will be used throughout the album sessions. The neck and middle pickups are Fender Custom Shop 69s and the bridge is a Seymour Duncan SSL-5 which is the same kind of pickup David Gilmour has in his black strat. I replaced the stock bridge with a Callaham S-bridge to improve intonation and sustain.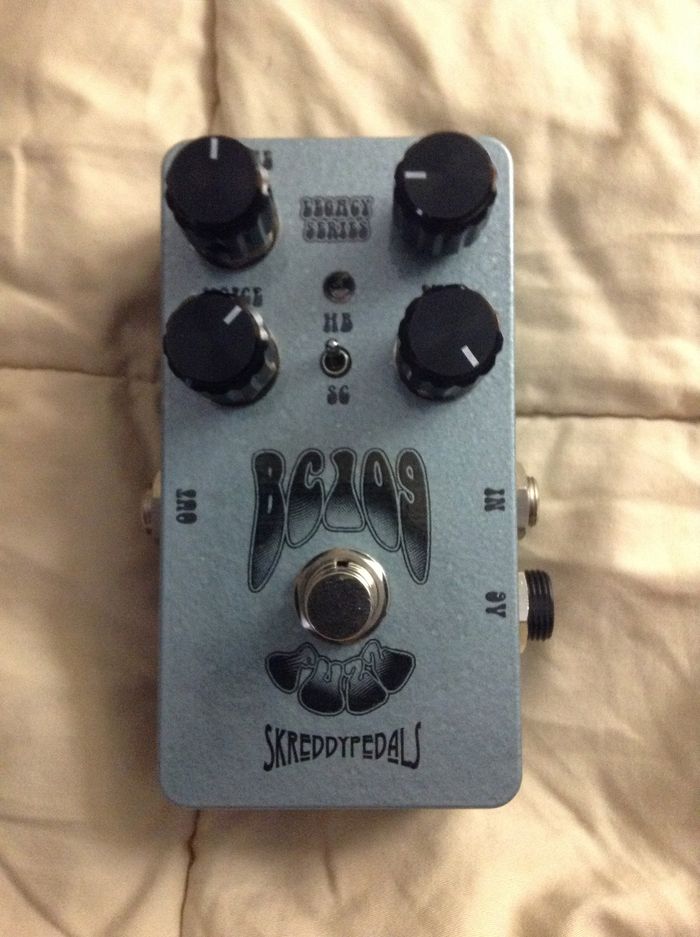 Above is the Skreddy BC109 Fuzz. This pedal is insane and I love it dearly...though it does tend to take hours away from my social life. It is the featured pedal on Axe Fall Blues. The pedal works wonderfully on my Deluxe Reverb, even at bedroom levels, fuzzes can sound thin and harsh at low volumes but this does not. This pedal covers more or less every fuzz sound you could conceive of although I'll warn you it doesn't really clean up much when you roll the guitar volume down.
That's it for today's session update. I'm very happy with how the sessions are going and I'll be posting a new update soon.
4/17/2015 Happy Friday everyone. This week I laid down the drums, bass and guide vocal for "Love Is A Veil For The Blues" a bluesy ballad that will be featured on the album. Laying down the drums was a little difficult, more difficult than  I thought it would be but in the end I'm happy with the result. For those of you who are wondering, I'm using Toontrack's Superior Drummer  not a real drum kit, I am a frustrated drummer at best.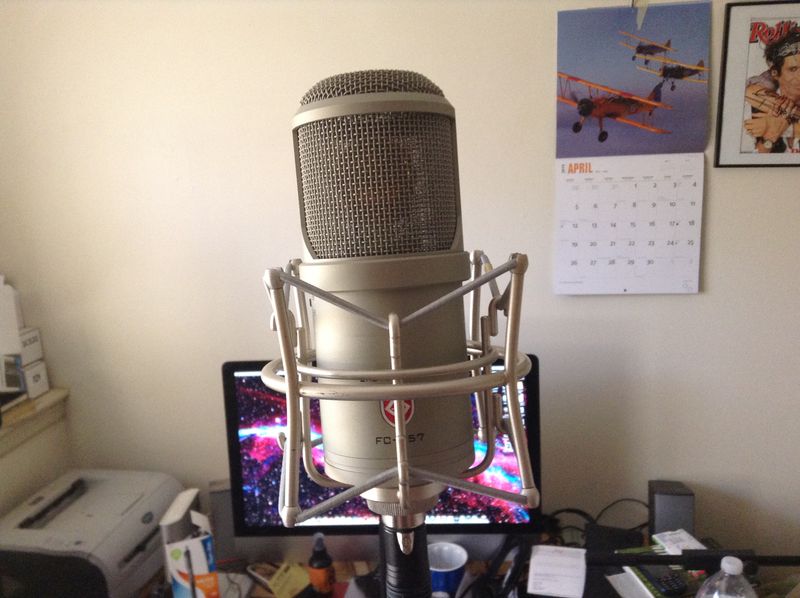 This is my Lauten Clarion  a warm vintage sounding mic  I'm using to record ballad vocals, acoustic guitar and some electric guitar parts. I don't know if I'll be using it for rock vocals yet, I may use a Shure SM57 for that but either way I love this mic.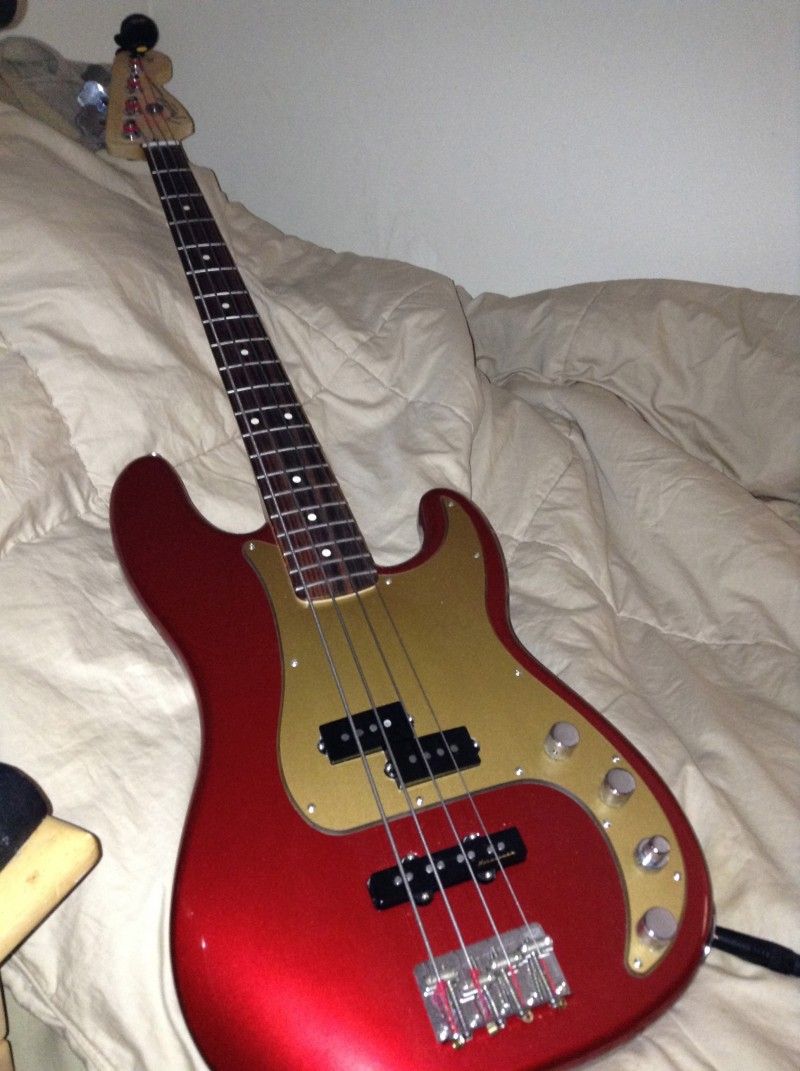 This is my bass guitar, a Fender Precision Bass Special that I bought last summer. It's interesting because it has a Jazz Bass neck, a jazz bass bridge pickup and a precison bass body and precision bass middle pickup. The active electronics feature a highly customizable Equalizer which pretty much lets me dial in any tone I can think of. I am using IK Media's Ampeg SVT for most of my bass parts and am very happy with it.
That's it for this session update, next I'll be working on guitar solos and fine tuning some riffs for the next song on the list. I hope you're all well and thank you very much for visiting the HOAS session journal! 
4/10/2015 This week I had the first official recording session for the album and it went very well. The song is a bluesy ballad like "The Thrill is Gone" by B.B King and the Rolling Stones' cover of  "Love in Vain" by Robert Johnson.  So far the rhythm guitar and basic drum parts have been laid down, next I'll be shaping the lead guitar tones, I'm very excited about that. Below is some of the gear I'm using on these sessions.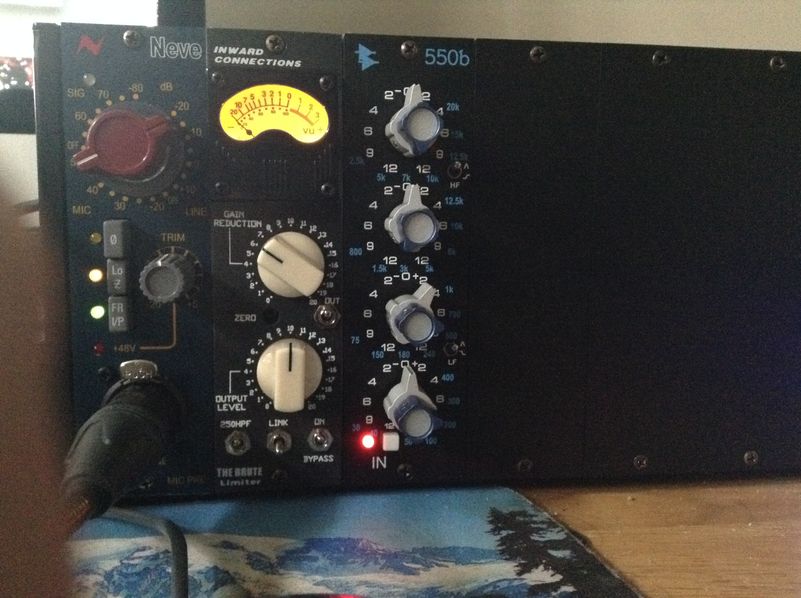 Above is my 6 space 500 series rack by Vintage King featuring an AMS Neve 1073LB preamp, an Inward Connections Brute Limiter and an API 550b Equalizer. Together they sound warm and vintage and it is doing wonders for the more bluesy and rock songs I'm working on.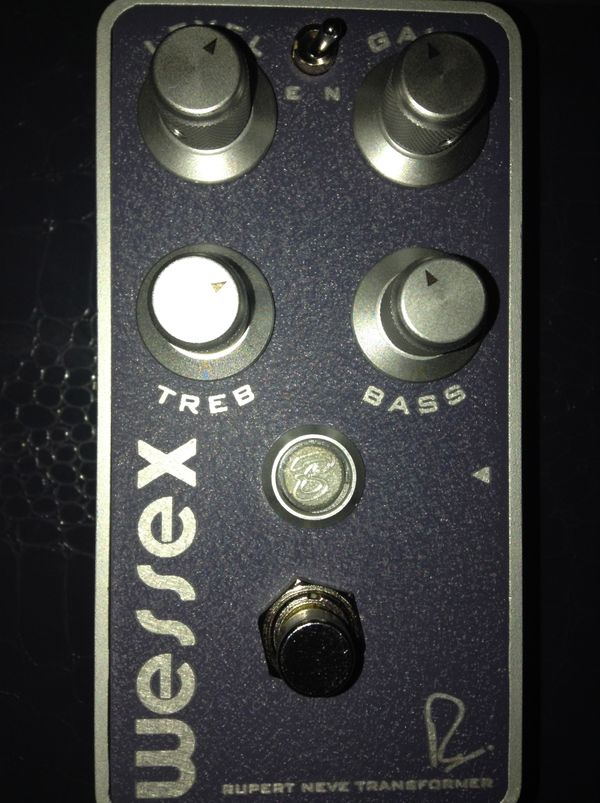 This is my brand new Bogner Wessex overdrive pedal, I am very impressed by it, It is very transparent and creats a super smooth overdrive. My Fenders love it but I haven't gotten a chance to use it with my Gibson, I'll be sure to let all of you know how they get along. 
That's it for this session update but I'm off to a terrific start and am continuing work on the new songs  today. Talk to you soon! -Eric
2/13/2015 There has been a flood of activity going on and I couldn't be feeling better about it. I have recorded four demos, written a couple of new songs and am developing some new artwork ideas. 
The first song written is a kind of Bob Dylan meets Beatles song called "Air of Suspicion, it's about  internet trolls and how there is no accountability for the things said on there. This song is really unusual for me because normally the lyrics come first and I write music to fit them, but this song was the  opposite. I'll be recording a demo after I have more words. I also finished demos for songs called "Gun It" which I'm shaping up to be a rock single ,  "River Traveller" and  "The Last One.
One thing I've learned and taken to heart is that you can never assume which songs are going to be easy to write and which ones will be hard. Sometimes they'll surprise you. I'm thankful for the gift, whether it's a hard process or an easy one. More news soon. 
1/29/2015 For the past few weeks I have been firing on all cylinders, writing and demoing and I couldn't be happier with the results. I feel like the melodies are improving considerably. I'm particularly proud of a ballad called Spilled which came all at once. I love it when that happens, when you're fooling around on an instrument, put two or three chords together and have a burst of inspiration. I live for that kind of feeling! In addition to Spilled I've written and demoed four new songs which have varying flavors, two are blues rock songs with a Rolling Stones/Clapton feel, the third is a blues and the fourth a kind of psychedelic rock song in a Radiohead/Beatles kind of vein. Once I have more than an album's worth of material I will begin recording the backing tracks. Anyway I'll be adding another update soon -Eric. 
1/9/2015. Happy New Year everyone and welcome to the first session log of 2015! Quite a lot has been going on and I think it's time I told you what's been happening. My pedalboard has been finalized, I sold the Custom Comp and replaced it with an Effectrode PC2A which is outstanding. I'm also in the market to buy a new preamp. Now running Pro Tools 11 which makes workflow painless, I no longer have to worry about drop outs, the virtual instruments and plugins work perfectly.
Now for the most exciting news. The demoing sessions have been fantastic. Everyone likes what they're hearing and I'm very proud of what I'm coming up with. It's varied stuff, some of it is atmospheric and emotional a mix of Radiohead The Beatles and Pink Floyd. Other stuff is more classic blues, rock and ballads in the vein of The Rolling Stones, Elton John,Buddy Guy etc. It will be an eclectic picture when it develops. 2015 is looking to be a productive and fun year and I'm enjoying every moment of this process. More news soon. -Eric 
10/24/2014. Great day today, I wired up my pedalboard and this is what it now looks like. First in the chain is the Skreddy BC109 Fuzz, a very saw like fuzz I use on more psychedelic and aggressive blues songs. Next is a MXR Custom Comp which I think is pretty much a modified Dynacomp. I mainly use it on warm overdrive settings and clean sounds to increase sustain. After the custom comp is my Skreddy BC239 which is a replica of a mid 70's Ram's Head Big Muff although in my opinion much nicer to use in a home or studio setting. This thing sounds gigantic. The Skreddy Screwdriver Mini Deluxe is the last of my dirt pedals and is enormously flexible. It can pretty much replicate any classic rock tone you have in  mind. Next is a 74 Custom Phase 90 by MXR. A classic by any definition and my go to pedal for early 70's phase sounds. The Empress Nebulus is next and is probably my favorite modulation pedal because it has a mix control. Many mod effects don't and it was great to find one that does and sounds this good. It can cover a Leslie, a 60's or 70's flange with ease and it's small, only about 4.5 inches long and 3 wide. Last is the TC Nova Delay which is pretty self explanatory. It's a studio quality delay and I don't think it has one unusable setting in it. So there you have it, that's my board and except for studio effects, every guitar effect you'll hear on the album.  Soon I'll post pics of my guitars. Check back soon!. -Eric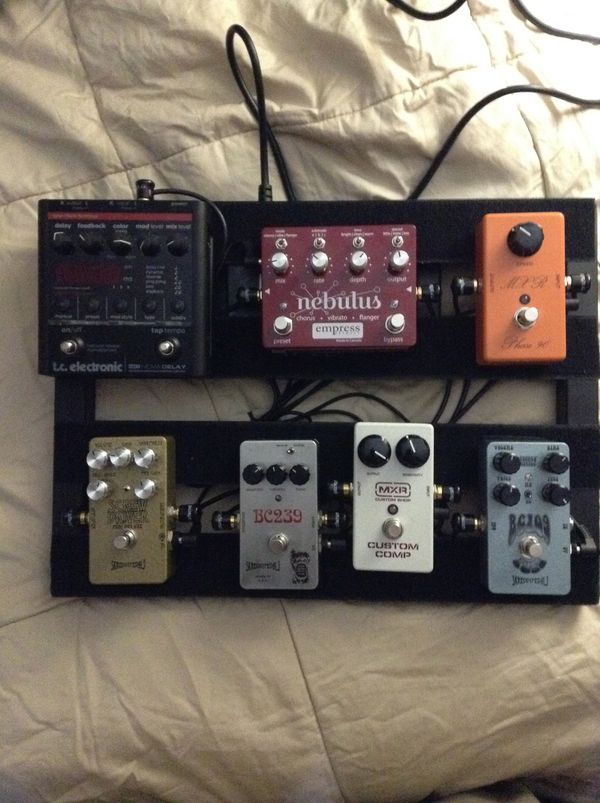 10/10/2014  Today I recorded some guitar and a vocal test for a song called Axe Fall Blues. It's going to be loud and will feature the BC109 Skreddy I  mentioned earlier. Overall it was a good day and I'm glad to be adding more and more
material for the album.It looks like every Friday or so I will be updating the session journal because that's the easiest day for me to get stuff done. More news to come soon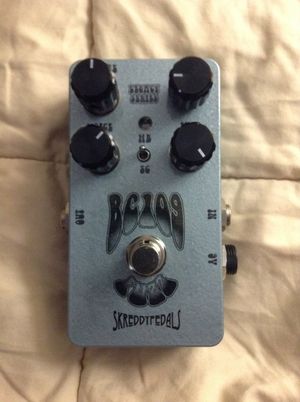 10/3/2014  A very LOUD and productive day today in the studio. I came up with a fuzzy blues that I am very proud of and am looking forward to arranging. I'm not sure if it's going to be an album track yet  or a single release but one thing for sure. It's going to be  LOUD! Thanks to the Skreddy BC109 for being my voice today.
9/19/2014 Began demoing some new song ideas for the album. Mostly acoustic. Things are coming along smoothly. My goal is to complete a demo every week. Hopefully I will have an albums worth of material or a little more by the end of the year. 
8/29/2014 Today I began working on solos for Dawn Wings. I used Josephine and I'm very proud of how it's sounding so far. Tonight I'll be tweaking the lead lines and maybe add an organ.  
8/12/2014 It's a strange thing to feel such grief over the loss of a man you never met but I do, Robin Williams rest in peace.
8/6/2014 This is Josephine, my Martin MMV, named for my grandmother. I used her on both The Sheriff and Peru and you will be hearing her again shortly :)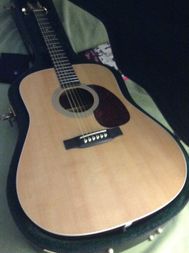 7/29/2014
Acoustic guitar and piano are my two favorite compositional tools and for one very good reason; they show you what you've really got as opposed to a pile of effects and distortion that may or may not cover sins. If your music sounds good acoustically or when played on a piano it will pretty much sound good on something else.
-Eric